HEIL'S® READY TRUCK PROGRAM PROVIDES QUICK SOLUTIONS FOR CUSTOMERS
Innovative stock truck program has complete line of Heil® garbage trucks ready at a moment's notice

DOWNERS GROVE, Ill., May 22, 2019 /PRNewswire/ -- Heil®, part of Environmental Solutions Group and Dover (NYSE: DOV), is proud to offer the growing Ready Truck Program, a leading-edge business model created to alleviate issues that can be caused by delays in the production and delivery of new garbage trucks.

Larry Angel, General Manager of Ready Truck, has a lifetime of experience in the waste industry, both in the solid waste business, as well as his decade-long tenure with Heil®. He described the challenges being faced by haulers and how Ready Truck has aggressively worked to deliver solutions.

"Waste haulers, whether private, public or municipal, don't have the luxury of waiting months for a truck. If you have a new contract, or have lost a truck due to an accident or fire, patience just isn't an option. If they aren't able to get a truck on the route within a short period of time, the impact to their bottom line can be substantial. The Heil® Ready Truck Program enables us to deliver the trucks our customers need, when and where they need them."

Ready Truck has a wide array of completed garbage trucks, in stock and ready for immediate delivery. Angel states, "We always have 25 to 30 completed trucks on the ground and ready for delivery. We've been doing this for so long, we are able to anticipate the needs of our customers, and work extremely hard to ensure that we have the most popular configurations in stock and ready to roll," said Angel, adding, "if the configuration of the stock truck meets the customer requirement, they can ship almost immediately."

For customers in immediate need of a vehicle with specifications not reflected in their stock inventory, Ready Truck has that covered as well. Angel explains, "With vehicles always in production at the factory, we are able to modify a build, but delivery is then based on standard factory throughput. Customers needing product right now are encouraged to choose from our wide assortment of configured vehicles ready to ship."

Heil's experienced sales team, state-of-the-art production facility and skilled workforce are equipped to provide superior quality for every aspect of refuse truck design and construction. Angel states, "Our customers love knowing that when Heil® does something, it's done right, and it's done on time. Our sales and engineering teams really know the business, and can help guide folks through the entire process of spec'ing out a truck. Our production facility provides a full array of services including frame modifications, mechanical and hydraulic work, custom fabrication and more."

As an added bonus over and above the quick delivery time frames, Ready Truck's volume purchasing can actually save their customers money as well. Angel says, "We are one of the largest chassis purchasers in the United States. Many people have become aware that we are able to provide trucks very quickly, but when they find out that we pass our volume pricing on to the end user, it makes dealing with Ready Truck a no-brainer."

Founded in 1901, Heil® is the nation's oldest manufacturer of refuse collection bodies and equipment. They have a long history of working tirelessly to make sure that the quality of their products, and time required for delivery exceeds customer expectations, each and every time. The Ready Truck Program recognizes their customer's challenges, and in the longstanding Heil® tradition, provides real world solutions that improve bottom lines.

For Heil®, world class quality and customer service aren't just catchy slogans. Chris Knight, Waste Management Director for The City of Stillwater, Oklahoma, states, "We've dealt with numerous other body companies over the years and made the decision to switch to all Heil® in 2014. We've had nothing but great success, and I wish we'd have done it years before. Their delivery timeframes are fast, the bodies are extremely well made and hold up very well. If we were ever in a jam, I know they'd bend over backwards to accommodate us. Everything they do is top notch, I can tell you that as long as I am here, we'll never deal with another body company."

Heil® has a nationwide network of more than 40 dealers in over 60 locations across the United States. To learn more or to locate a dealer closest to you, visit heil.com and click on "Dealer Locator" or call toll free at: 1-800-ASK-HEIL.
About Heil®:
Heil® is one of the world's premier manufacturers of ultra-durable, high-productivity, custom-configured garbage trucks and automation solutions that help customers achieve the lowest cost of ownership. Their refuse collection bodies include a wide variety of front loaders, side loaders, and rear loaders. Heil® bodies are known throughout the waste industry as being legendary for productivity, long life, ease of maintenance, and operator safety. They are proud to be a leader in customer service and provide world-class training, and after-the-sale support. For more information about Heil®, visit heil.com, the Heil Facebook page or follow us on Twitter.
About Dover:
Dover is a diversified global manufacturer with annual revenues of approximately $7 billion. We deliver innovative equipment and components, specialty systems, consumable supplies, software and digital solutions, and support services through three operating segments: Engineered Systems, Fluids, and Refrigeration & Food Equipment. Dover combines global scale with operational agility to lead the markets we serve. Recognized for our entrepreneurial approach for over 60 years, our team of approximately 24,000 employees takes an ownership mindset, collaborating with customers to redefine what's possible. Headquartered in Downers Grove, Illinois, Dover trades on the New York Stock Exchange under "DOV." Additional information is available at dovercorporation.com.
NWRA Women's Council Receives $100,000 Donation For Academic Scholarship
Arlington, VA – The National Waste & Recycling Association is pleased to announce that its members McNeilus Companies, Inc. and Environmental Solutions Group, have together contributed $100,000 to support the NWRA Women's Council Scholarship program.

"On behalf of the Women's Council, we thank Pat Carroll, President – Environmental Solutions Group and Brad Nelson, CEO, McNeilus Companies, Inc., for their generous support of the Scholarship program. "This is a tremendous gift by two leading NWRA member companies who value the men and women who make up this industry. By their example, we hope that other companies will consider investing in the future of this industry by contributing to the scholarship program." said Peggy Macenas, Director, NWRA, Midwest Region and Director of the Women's Council.
"At a time when we are seeking to attract more workers to our industry, the work of the Women's Council and its scholarships are important resources. Environmental Solutions Group is proud to support the Women's Council," said Pat Carroll.

Brad Nelson said, "On behalf of the McNeilus Companies, we are proud to support the Women's Council Scholarship that helps to strengthen our industry."

This year the Women's Council will award four individuals with $7,500 toward their education goals. Since 2007, the Women's Council has awarded $142,500 to 36 scholars.

The scholarships are limited to employees and dependents of NWRA member companies who wish to pursue a career in the solid waste and recycling industry. Scholarship applications are available here.

The McNeilus Companies and Environmental Solutions Group will be recognized at WasteExpo 2018 in Las Vegas in April for their generous support of the NWRA Women's Council.

###

ABOUT NWRA's Women's Council
The Women's Council is made up of NWRA member company employees who work together on education, professional development and manage the academic scholarship program. The National Waste & Recycling Association represents the private sector waste and recycling services industry. Association members conduct business in all 50 states, and include companies that manage garbage, recycling and medical waste, equipment manufacturers and distributors, and a variety of other service providers. For more information about NWRA, please visit www.wasterecycling.org

Contact:
Brandon Wright
National Waste & Recycling Association
bwright@wasterecycling.org
202-364-3706
Ken Beaver Featured at Waste360 Global Waste Symposium
Published by Waste360
Author: Hunder Kuffel
Deciding on the best strategy for collecting and processing organic waste is a long process with hundreds of variables to consider. Whether it's determining the number of bins to provide to households or how to map the routes that collectors will travel or what materials to send to what facility, there are countless questions each municipality must answer with limited information to assist them.
In essence, municipalities must decide between spending more on collection and spending more on processing. Making collection easier and more cost effective will almost always make processing more difficult and expensive, and vice versa.
At the upcoming Global Waste Management Symposium (GWMS), which is being held at the Hyatt Regency Indian Wells Resort & Space in Indian Wells, Calif., February 11-14, Ken Beaver, director of processing solutions at Environmental Solutions Group, will discuss his analysis of the many trade-offs municipalities face when attempting to determine the best collection strategies for their circumstances.
Waste360: Without spoiling all the details of your session, what is your process for analyzing collection strategies for organic waste?
Ken Beaver: First, we have to recognize that there is a trade-off between collection costs and processing costs when it comes to recovering solid waste. In a sense, it's a trade-off between a decentralized approach and a centralized approach.
On the one extreme, a very centralized processing approach with a mixed waste materials recovery facility where you're also recovering the organic fraction is going to be a very sophisticated, high-technology, large volume facility. That's necessarily going to be a large investment. Conversely, the collection cost is the lowest possible because you're only going to have one bin with everything in it. On the other extreme, which is probably more common in Europe than in the U.S., there are multiple bins. It could be three, four, five or even more bins, and assuming people get the right material in the right bins—which is always a huge assumption—you have fairly clean, separated commodities happening on a very decentralized level, literally by household or by business. Therefore, your processing costs are much lower, but you can imagine how expensive that would be if you're collecting multiple bins, both in terms of the number of carts each household has and the number of trucks that have to come down the road. Even just the physical ability for many households to store that many different containers may be limited.
Those are the two extremes, and in the real world there are some really interesting trade-offs, which I'll get into in the presentation. We need to understand what those trade-offs are when it comes to processing and recovering materials. What I'm trying to do is systematically develop a model that helps any municipality, based on their particular situation, and guide them toward that correct choice because two bins for one municipality may not be the right choice for some municipalities.
Waste360: It sounds like there are a great deal of variables to consider. How would something like route density influence the choice in strategy for a given municipality?
Ken Beaver: If you have houses that are far apart or you have houses that aren't setting out a very high volume of material, you're going to have low route density. If the houses are close together, the traffic isn't bad and the truck can move from stop to stop quickly and fill up in a short period of time, that's a higher route density. So, higher route densities will support more bins because the penalty for those extra bins is not so significant, whereas lower density routes pay a huge premium when you start going from one bin to two or three bins. At that point, route densities get so low that the truck is spending most of its time just driving from stop to stop.
To give an extreme example, many municipalities are considering residential, source-separated food waste, which is a pretty hot topic these days. When you consider how much waste the average household generates in a typical week, it's maybe five to 10 pounds. So now, you're going to have a route where the homes that are participating are setting out five to 10 pounds per week, but you may not even have 100 percent participation. In fact, you'll often have far less. Let's say you have 30 percent participation, and one in three houses is setting out five pounds. When looking at how much time the truck is spending on the road and how much food waste it's actually collecting, the economics of that are very challenging, and even the environmental benefits are questionable because your truck has an environmental impact and the fuel it's burning has an environmental impact. That's an example of a low route density undermining a well-intentioned program to do what's right for the environment.
Waste360: We've been covering a lot of technological innovations or tech startups that have been working to reduce food waste or save food before it becomes food waste. How does that play into this conversation?
Ken Beaver: If there's not a whole lot of food waste in the mix, then the economics of recovering that relatively small amount of food waste are not very attractive. The ideal situation is that this waste never makes it into the waste stream. That's the ideal, but given that that's probably not going to happen in our lifetime, the question then becomes, "How do we recover this?" Then, the amount of food waste or the percentage of food waste (or any kind of organic waste) will dictate the potential options.
When you look at the U.S. Environmental Protection Agency's statistics, overall, 52 percent of what goes into the landfill is some form of organic material, either food, yard, wood or paper. That's an average, and in any given municipality, that number could be quite a bit higher, especially if the recycling programs are strong and there's not much recycling going into the landfill. Conversely, the number could be lower if there's not much recycling going on. So, if organic waste is more than half the total in that stream, then you can utilize the process that's intended to recover that organic fraction. But, if organic waste is only, say, 20 percent of the total in that stream, then the economics aren't very good. You're probably trying to separate it to eliminate the contamination from the other 80 percent, but that 20 percent itself is not a very high amount of material. So again, there's this classic case of, "Can I keep the food waste from getting into the waste stream, or if it is in the waste stream, what is the best way to recover it?"
I know you've heard this 1,000 times, but it really does go back to the old "reduce, reuse, recycle" hierarchy. Reducing and reusing are certainly preferred options to recycling. Recycling is better than not recycling, but you want to reduce and reuse before you try to recycle, whether it's food or yard waste in the waste stream.
Waste360: Is there anything else you want the GWMS attendees to take away from your session?
Ken Beaver: I think the final point is new technologies. The objective for a lot of companies is to find this magic technology where you can put mixed waste in one end and have these beautiful, high-value commodities coming out of the other. Nobody has found that magic bullet yet, but the technology is progressing. We are one of a number of companies working on this issue, and as those technologies evolve, that will change the economics and the environmental impact of these choices. I think that is always worthwhile.
One final point that is important: When you look at the economics of a typical compost facility or a typical anaerobic digestion facility, you would think it has everything to do with selling the final product, the compost or the biogas. The reality is that typically 80 percent of the revenues of those facilities are tip fees and only 20 percent is the output, so for organic waste to become a viable process for recovering, that ratio has to be flipped. That requires developing much higher value end products. So I think you're going to see a proliferation of developed end products like fertilizers, customized mixes of compost, biochar, ethanol, synthetic fuels, etc. As our industry is able to develop these higher value end products and shift those economics from tip fees to selling products, that will help drive the market more toward recovery of organic material.
Heil of Texas Strengthens Commitment to Service with New El Paso Location
EL PASO, TX (January 23, 2018) - Heil's industry-leading dealer network is riding a little taller in the saddle now. Heil of Texas, which has been providing quality sales, parts and comprehensive service to fleet owners since 2001, is increasing its investment in the Lone Star State and New Mexico with the opening of a new facility in El Paso.
"Heil's dealer network provides unequalled service to waste haulers throughout the country," said Pat Carroll, President of Heil. "In many parts of the country our competition is actually pulling out of some markets, so we're proud to focus our efforts on supporting Heil of Texas and other Heil dealers as they continue to expand their territory to serve more customers."
Heil of Texas sells and services all Heil products, including OEM parts. The company also operates two fulltime dedicated service trucks to service the Rio Grande Valley, West Texas and New Mexico.
"We're a total solutions provider, with three parts, service and sales locations in Houston, Dallas and San Antonio," said Larry C. Davis, co-founder of Heil of Texas. "Our El Paso location expands our reach so we can better serve our valued customers in New Mexico, West Texas and the Texas Panhandle."
The new El Paso facility will have eight service bays and a staff of trained technicians.
Davis spent 25 years in the solid waste industry on the chassis side before co-founding Heil of Texas, bringing his industry and dealership experience to the body side of the business. Through focused leadership, he hired a team of solid waste professionals and opened facilities statewide in order to offer superior service after the sale.
As the total solutions provider for Texas and New Mexico, Heil of Texas represents four premium manufacturers that offer a wide variety of solid waste collection vehicles, bulk waste loaders, balers, sweepers and pothole patchers. Our partners offer industry leading technology and productivity in their product offerings. These include:
Heil solid waste collection bodies
Vac-Con combination cleaners and hydroexcavators
Palfinger/Epsilon bulk waste loaders
Schwarze Industries street sweepers and road patchers
Employees of Heil of Texas are guided by five principles: Integrity, Service, Goodwill, Product Knowledge and Follow-through. Because of their commitment to these principles, Heil of Texas is able to provide customer service that is unmatched in the industry.
Heil, established in 1901, is the first ISO 9001:2000 certified manufacturer of refuse collection bodies in the United States. Heil is the industry leader in automated waste collection technology and offers the broadest product line, including front loaders, rear loaders, side loaders, multi-compartment vehicles, and roll-off hoists. OEM and aftermarket replacement parts are available through Parts Central. Heil is part of Environmental Solutions Group. For more information, visit www.heil.com.
###
Heil Dealer Network Strengthens its Commitment in Columbus, OH with New Bell Equipment Facility
CHATTANOOGA, TN (Jan. 9, 2018) — Heil's dealer network just got even stronger with Bell Equipment's relocation to their new location in Gahanna, a suburb of Columbus, OH. The new facility, located at 1045 Taylor Road, was designed to better serve refuse customers throughout Ohio, including public, private and municipal fleets.
"We're excited to see our dealer network continue to expand to better serve our growing customer base," said Heil Senior Director of Sales, Robby Dehart. "Bell Equipment has been a first-class Heil dealer for more than 10 years and they have a history of providing excellent service to their customers. The investment in their new shop is a signal of their commitment to their Ohio customer base."
Bell Equipment's new location is designed around servicing fleet customers, like the City of Columbus – who bear the responsibility of keeping Columbus streets and neighborhoods clean – something the Bell family has taken pride in since they opened in 1951.
"I'm a third-generation owner and my name is on the building," said Bell Equipment owner, Jimmy Bell. "I've been around heavy equipment my entire life and understand how important keeping heavy equipment up and running is. This new facility is going to allow us to service our customers much more efficiently."
In addition to the shop, Bell is excited about the expanded parts warehouse that spans two floors. "Heil refuse products are well represented in Ohio – and our expanded parts inventory means that we're better suited to ensure vehicles say productive and operational," said Bell.
In addition to quality Heil products, parts and service, Bell Equipment also offers Bayne container tippers, salt spreaders, asphalt patchers and roll-off hoists from various manufacturers at their Gahanna location as well as their corporate headquarters in Lake Orion, Michigan.
Heil, established in 1901, is the first ISO 9001:2000 certified manufacturer of refuse collection bodies in the United States. Heil is the industry leader in automated waste collection technology and offers the broadest product line, including front loaders, rear loaders, side loaders, multi-compartment vehicles, and roll-off hoists. OEM and aftermarket replacement parts are available through Parts Central.
Heil is part of Environmental Solutions Group. For more information, visit www.heil.com.
###
Heil Strengthens Dealer Network With Expanded Service For Northeast US
CHATTANOOGA, Tenn., Dec. 19, 2017 - If you are a fleet owner operating Heil garbage trucks in Vermont or New Hampshire, servicing your vehicles just got a whole lot easier. Effective January 1, 2018, Environmental Equipment Sales & Service LLC (EESS) will be expanding their area of service to include these two New England states.
"We're very excited to see Dan Cowher and his team step up to the plate and expand their sphere of influence in the Northeast," said Pat Carroll, president of Heil. "Dan's long history in the refuse industry allows him to understand the demands of the equipment ­– and the services needed, in a way that resonates with refuse haulers. We're excited to have him representing our products."
EESS, located in Sutton, MA, is owned and operated by Cowher, a Navy veteran who spent much of his life in management roles with several major national haulers. EESS is a dealer for all Heil product families, including OEM parts and service, and has two service bays. In addition, EESS is also equipped to make emergency roadside calls with a fully outfitted service vehicle, which includes a crane, compressor, welder and the ability to make hydraulic hoses on site.
"We're very proud to be able to extend our reach to Vermont and New Hampshire," said Cowher. "I've understood the importance of maintenance and uptime since I was a 13-year-old kid – so when it comes to garbage trucks – if they're aren't packing, they aren't making money. At EESS, my job it to ensure that we keep our customer's trucks up and running."
EESS is one of 39 Heil dealers with 59 separate locations throughout the United States and Canada, making Heil's dealer network the largest in the country among refuse body manufacturers. Municipalities, public and private fleets have come to rely on Heil products as well as parts and service, and EESS's continued expansion will extend that commitment to fleets in New Hampshire and Vermont.
For any questions or further information, please contact EESS at 508-917-8889 or visit them on the web at http://eess-llc.com/
Heil, established in 1901, is the first ISO 9001:2000 certified manufacturer of refuse collection bodies in the United States. Heil is the industry leader in automated waste collection technology and offers the broadest product line, including front loaders, rear loaders, side loaders, multi-compartment vehicles, and roll-off hoists. OEM and aftermarket replacement parts are available through Parts Central. Heil is part of Environmental Solutions Group. For more information, visit www.heil.com.
Media Contact:
Dan Alderman
Environmental Solutions Group
dalderman@doveresg.com
(423) 855-3483
Heil Debuts The Service Shack™ Video Series for Garbage Truck Fleet Owners
CHATTANOOGA, TN (Dec. 19, 2017) — Offering refuse vehicle maintenance training to fleets is a time-consuming and costly effort. Add language barriers, high turnover rates and various levels of mechanical competency at many garages – and you have a recipe for both frustration and downed vehicles.
Heil's new video series – The Service Shack™ – enlightens and informs fleet owners, maintenance personnel and operators about common maintenance procedures pertaining to Heil products – all while educating viewers on the importance of personal protective equipment, tools needed, and the value of having the right OEM parts.
Each video is hosted by Heil's service guru, Travis Wallen, and features commonly requested maintenance procedures with step-by-step instructions. To add further value to the offering, the video series is available in three languages – English, Spanish and French Canadian – to accommodate maintenance professionals throughout all of North America.
"We've spent a lot of time talking to major fleet customers and many have asked that we offer more training to assist them with high turnover rates at their shops," said Pat Carroll, President of Heil. "We put our heads together and developed the Service Shack as a direct response to those requests, including extending the reach with a focus on multilingual training offerings." Each video begins with a safety message, followed by a section calling out the personal protective equipment (PPE) needed, along with necessary tools and any OEM parts required. "Our goal is to provide a simple-to-use interface that our customers can log onto to get the training that they need – any time of the day or night."
Heil has multiple videos available now on our online Learning Management System (LMS), and new videos will be uploaded each month to cover topics ranging from filter replacement, setting hydraulic pressures to common pre-trip walk-around inspection procedures. Fleet owners can log in to the LMS on the Heil website using their existing login information. If you need help creating an account or logging in, contact us at marketing@doveresg.com to sign up for this free service. As an added bonus, the LMS can help fleet owners manage their mechanics' training requirements as the LMS tracks viewer participation.
We've been taking care of our customers for more than 100 years, and the new Heil Service Shack video series is our way of helping fleet owners and their maintenance teams put those service manuals back on the shelf and get up close and personal with vehicle maintenance. If you have any suggestions regarding future topics to be covered on The Service Shack, please email us at marketing@doveresg.com and we'll put that on our list.
Heil, established in 1901, is the first ISO 9001:2000 certified manufacturer of refuse collection bodies in the United States. Heil is the industry leader in automated waste collection technology and offers the broadest product line, including front loaders, rear loaders, side loaders, multi-compartment vehicles, and roll-off hoists. OEM and aftermarket replacement parts are available through Parts Central. Heil is part of Environmental Solutions Group. For more information, visit www.heil.com.
###
ENVIRONMENTAL SOLUTIONS GROUP ACQUIRES ALLIANCE WIRELESS TECHNOLOGIES, INC.
ENVIRONMENTAL SOLUTIONS GROUP ACQUIRES ALLIANCE WIRELESS TECHNOLOGIES, INC.
Chattanooga, TN. (Sept. 26, 2016) — Environmental Solutions Group (ESG) has announced the acquisition of Alliance Wireless Technologies, Inc. (AWTI) of Houston, TX. Details of the acquisition have not been disclosed. AWTI, with its industry leading brand 3rd Eye Cam, provides state-of-the-art mobile and facility vision technology that greatly improves safety, security, driver accountability and behavior, and mitigates risk related to fleet and facility management.
"The acquisition of AWTI gives ESG the industry's first fully integrated digital safety-body-chassis-route solution," said Pat Carroll, president of ESG. "AWTI products will ensure our customers have the right data at the right time to make the right decisions related to their hauling activities and the safety of their vehicle operators."
"ESG brings innovative body and chassis information for fleet analysis, which can now be overlaid with AWTI 3rd Eye Cam video analytics," said Darrick Reed, president and CEO of AWTI. "This combination will provide real time fleet management, customer service verification, route optimization and engine diagnostic solutions, while reducing accidents and improving risk mitigation."
AWTI's 3rd Eye Cam already delivers superb results on operator safety, and the company is planning to release a product expansion known as Enhance that will monitor and transmit chassis and body signals for improved maintenance and productivity solutions. All of this plus the 3rd Eye Cam will be delivered through one device in the vehicle to reduce clutter in the cab as well as multiple signals for data transmission. AWTI will truly deliver the first fully
integrated solution focused on customer needs.
Alliance Wireless Technology Inc., provides state-of-the-art mobile and facility vision technology that greatly improves safety, security, driver accountability and behavior, and mitigates risk related to fleet and facility management. For more information, visit www.awti.com.
Environmental Solutions Group encompasses industry-leading brands — Heil Environmental, Marathon, Bayne and The Curotto-Can — to create a premier, fully integrated equipment group serving the solid waste and recycling industry. Through extensive voice-of-customer outreach, in-house engineering and manufacturing capabilities, a wide-reaching service network, and proven industry expertise, ESG is focused on solving customer problems through environmentally responsible products and providing world-class support. For more information, visit www.doveresg.com.
###
© 2016 Environmental Solutions Group. | PR-2016-E1
Need to buy a garbage truck but unsure about financing?
Need to buy a garbage truck but unsure about financing? Choose from the industry's largest Ready Truck inventory with the best available financing. For more information, visit our dealer locator, call 1-256-845-8355, or email financing@heil.com.
East Lansing Rolls out Thousands of Recycling Carts
(East Lansing, MI) - People in East Lansing no longer have to cram their recyclables in a 10x10 bin. No more driving miles to drop off their larger recyclables.
"Now our residents will be able to recycle items like cardboard, box board, and cartons. We're exceptionally excited about all those items, scrap metal from your household," said environmental services administrator Cathy DeShambo.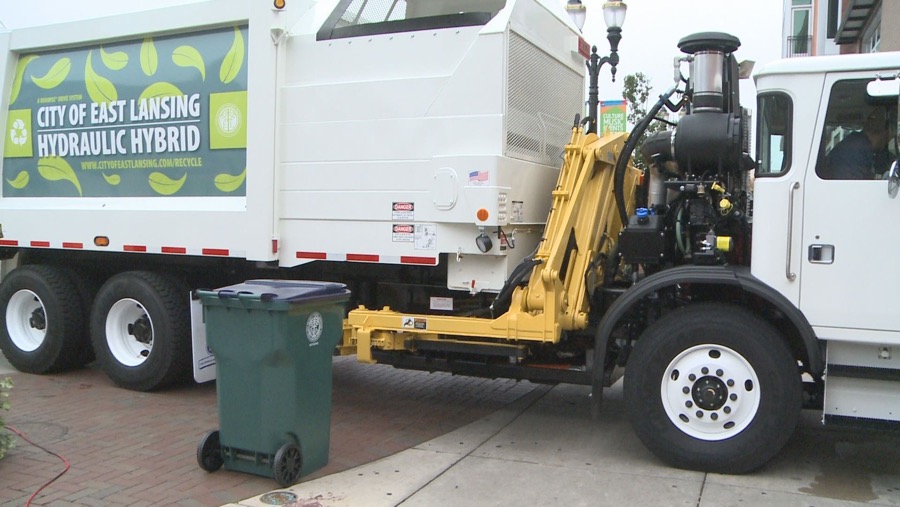 Thanks to a $125,000 grant from Recycling Partnership homes are getting 96 gallon carts that will hold a lot more than before. Without the grant, carts would cost homeowners more than $50.00 a piece.
East Lansing Mayor, Nathan Triplett, expects to see a growth in recycling, "We expect to see a significant drop in rubbish collection and a significant increase, potentially upwards of an initial 40 - 50% in our recycling stream. So that's economically good for the city, environmentally sustainable, and we're looking forward to seeing the transition.
Along with the more than 7,000 carts that have been delivered to the city comes a new hydraulic hybrid Heil garbage truck.
"It's the first of its kind in Michigan. We are a hydraulic hybrid system by nature. A hybrid means two forms of energy," said Angelo Caponi of Parker Hannifin Engineering.
"It's kind of like a balloon. You blow up a balloon, it expands and when you let it go; it flies. That's the more energy that you capture and pressurize, the better your next take off will be," explains Caponi.
The new truck will use 40-50% less fuel and reduce emissions. A truly green truck on a green mission. "The less diesel fuel you're burning, the less CO2 you're putting into the air and the less (Carbon oxide) the less total hydrocarbon. It really is a solution to a problem," Caponi said.
DeShambo said while the city is celebrating one green victory, they are already working towards future green growth. "We want our residents to be able to recycle as much when they're enjoying our downtown and coming here to go out to dinner or to shop. We want them to have places where they can recycle their plastic bottles and their coffee cups."
Another new thing for the City of East Lansing, they will cut down the number of pickups from weekly to twice monthly to help reduce wear and tear on the roads.
HEIL Introduces Small Mini Rear Load Garbage Truck Bodies
STRINGFELLOW GETS 3-YEAR DEAL WITH CHATTANOOGA FOR 15 RAPID RAIL Garbage Truck Bodies