ODYSSEY® CONTROLS
Odyssey Controls feature a refined hydraulic and electronic control system for maximum efficiency, reliability and precise control. This results in increased productivity, reduced downtime, and lower operating costs.
LESS TIME IN THE SHOP
When you're stuck in the shop, you're not making money. The Half/Pack features our Service Smart design, which simplifies routine maintenance and helps keep you away from the shop and out servicing your customers.
STREETWISE HYDRAULICS
Our exclusive "clean front head" relocates the hydraulic body valve from the front head to under the side of the body. This design reduces the influence of engine heat on the hydraulic components, as well as improving access to the valve bodies. This also means improved safety and reliability, all while reducing downtime.
ZINC-PLATED HYDRAULIC TUBES
Use of zinc-plated hydraulic tubes reduces hydraulic leak-causing corrosion, lessening the frequency with which components need to be replaced over the life of the body. This reduces maintenance and downtime costs.
LIGHTNING CYLINDERS
Lightning cylinder package lessens container dump times by up to 5 seconds per dump, which equals a productivity savings of $2,083 per truck per year.
UPDATED INTEGRATED DISPLAY
Standard 7" Insight display provides real-time feedback, as well as optimal operator control. Operator can look to one place for all of the information they need on the body. Also, the Insight display offers maintenance personnel advanced troubleshooting features. Optional 12" In-cab display is available. 3rdEye® Camera feeds are also integrated into the display, thus eliminating the need for a separate camera monitor and freeing up line of sight and cab space.
ON-BOARD DIAGNOSTIC TOOLS
Quickly and easily diagnose problems away from outside hazards and weather. On-board diagnostic tools make troubleshooting a breeze.
ILLUMINATED PUSH BUTTON CONTROLS
Easy to read and understand touch button body, packer, pump and lighting controls with indicator lights come standard.
ALUMINUM CAB SHIELD & TOP DOOR
Lightweight aluminum cab shield with rigid steel frame and aluminum top door increase longevity, dependability and payload without sacrificing strength.
LowRider™ Optional Features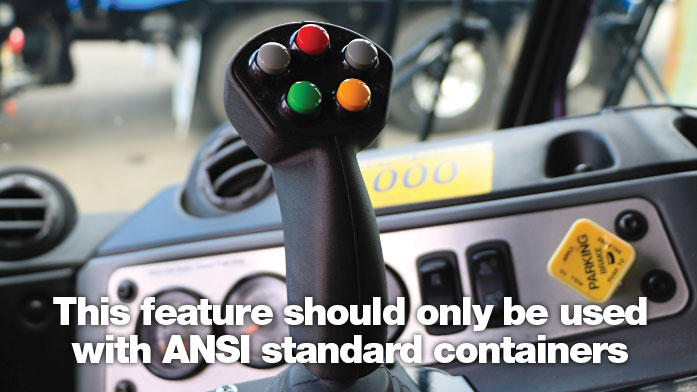 OPTIONAL H.A.L.O. CONTROLS
Single button operation eliminates multi-control movement, reducing driver input by 82%. Reduces training time, increases new driver productivity and eliminates accidental unit/cab damage. (Available on commercial version only)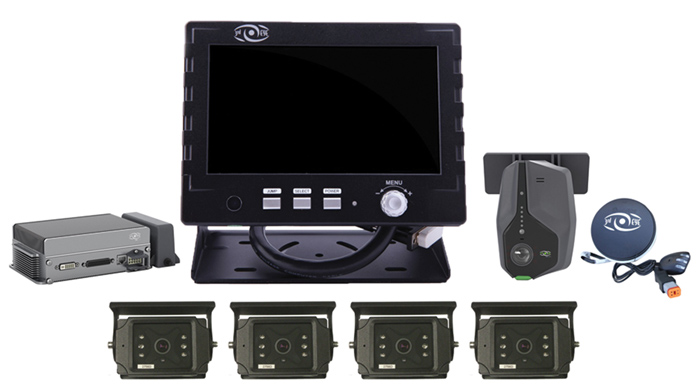 OPTIONAL 3RD EYE DIGITAL PACKAGES
Connect for service verification, body/chassis data, fuel tax reporting, and route management. Includes factory installed 3rdEye Cam, Radar System, and the ability to connect up to eight cameras.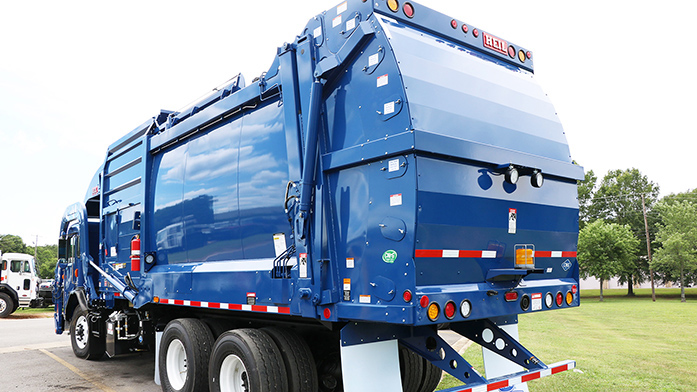 OPTIONAL CNRG® TAILGATE
The lower profile, fully integrated CNrG tailgate fuel delivery system will revolutionize the way you use CNG garbage trucks. Capable of holding up to 6 CNG tanks with a total capacity of 90 DGE.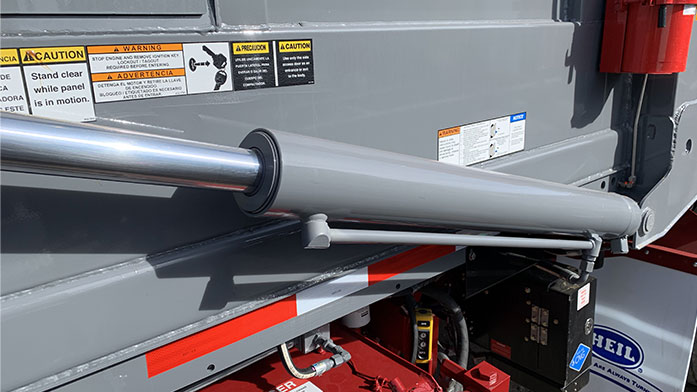 HALF/PACK CYLINDERS W/ 8,000 LB CAPACITY
Optional higher lift capacity Half/Pack arm cylinders allow you to take on even the toughest commercial routes.